If You Lived When There Was Slavery in America Paperback Book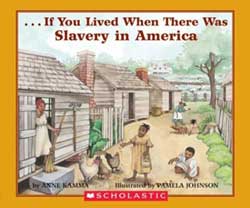 It is hard to imagine that, once, a person in America could be "owned" by another person. But from the time the colonies were settled in the 1600s until the end of the Civil War in 1865, millions of black people were bought and sold like goods.
Grades: 3 - 6
A different time...a different place...What if you were there?
Where did the slaves come from?
Where did they live in America?
What were their houses like?
What kind of work did they do?

This fact-filled book tells students what it was like to live in different times in American history. The inviting question-and-answer format and lively full-color illustrations help students learn about language, homes, medicine, games, and much more! Accelerated Reader® titles.
Paperback book, 64 pages.