Bus Driver / Conductor Bilingual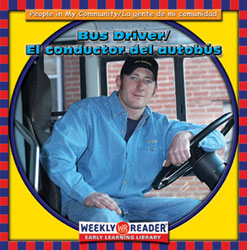 Engage beginning readers with this lively and easy-to-understand series
that describes valuable people in society and the roles they play in our communities.
Keyword repetition, colorful photography, and glossaries help students build
vocabulary and comprehension skills. Each book is read beginning to end in English
and beginning to end in Spanish. Accelerated Reader® titles, RL: 1.6-2.2. Library
Bound, 24 pages each.
Language: Spanish & English