Communicator Clearboard Elementary Classroom Kit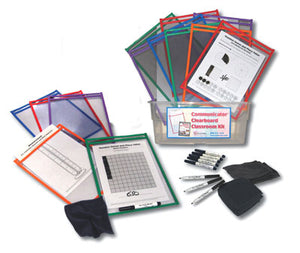 Grades: 3-5
The Big Book of Elementary Templates is a reproducible book designed for use with the Communicator Clearboard. Save valuable classroom time! Communicator Clearboard "templates" are reproducible designs created so that each individual student must actively respond to questions or directions and in so doing, discover, study, explore, review, or learn the concepts that are inherent in the teacher's instructional objectives. In The Big Book of Elementary Communicator Classroom Templates, teachers choose from sets of templates in language arts, social studies, math, and science. Each template includes suggestions and techniques to make implementation easy and effective.
Reproducible, 234 pages.

Includes 30 Dry-Erase Pockets, The Big Book of Elementary Communicator Templates, 30 dry erase markers, and 30 EZ Erasers, all in a classroom friendly container.