Hot Dots Science Flash Cards & Pens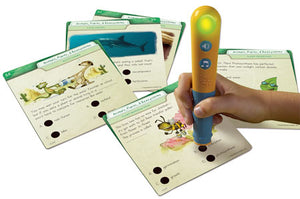 Grades: 2+
These cards provide an interactive way for students to learn and practice key science concepts and vocabulary on their own. Each set includes 36 doublesided illustrated cards for a total of 72 questions. Use as flash cards, or with the Hot Dots Talking Pen (EI-2570, sold separately) for immediate feedback. Includes:
EI-2721TX Animals, Plants, & Ecosystems
EI-2722TX Astronomy
EI-2723TX Earth and Weather
EI-2724TX Force, Motion, Simple Machines
EI-2725TX Human Body
EI-2726TX Matter and Energy
Set of 6 titles and 6 pens.