Merriam-Webster's Notebook Reference Books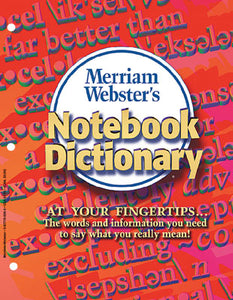 Grades: 5 - 9
These compact resources from Merriam-Webster are conveniently designed for 3-ring binders Your students will always know where they are!
Notebook Dictionary: 40,000 concise entries including easy to understand definitions & pronunciations. 96 pages.

Notebook Atlas: This quick-reference geographical guide puts the world at your student's fingertips. Features full-color maps. 68 pages.

Notebook Thesaurus: Over 110,000 word choices include synonyms, antonyms, and related words. Includes Prefixes and Suffixes, Words Often Confused. 96 pages.

Notebook Spanish-English Dictionary: A bilingual and bidirectional guide to Spanish and American English. Nearly 45,000 entries.