Essential Vocabulary English Set of 5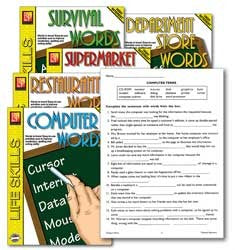 Grades: 3 - 6
WORDS THEY NEED TO KNOW! Develop real world skills with these easy-to-use activities sure to improve vocabulary, spelling and writing ability. Each of the five books targets
an important aspect of the everyday world. Key words are introduced in context and then repeatedly reinforced in motivating exercises that emphasize word pronunciations,
definitions, spelling, problem-solving and more! Interesting stories and real life
activities improve problem solving, and writing skills.
Survival Words * Supermarket Words * Restaurant Words * Department Store Words * Computer Words
Set of 5 reproducible books, 32 pages each.