All The Facts Smoking Pamphlet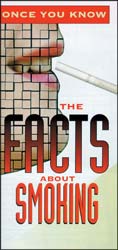 Bust the myth that young people can get away with tobacco use of any kind. Explains the health risks and consequences of cigarettes and how myths and manipulations help tobacco users miss or ignore the negatives. Aimed at teens and young adults, who are most at risk of falling prey to deceptive tobacco advertising and mythology.
Full color, eight panels, 4" x 8½" folded; 16" x 8½" unfolded.