Cash Pax Money Briefcase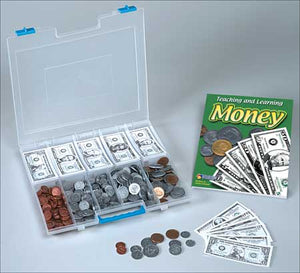 Keep your school money sorted and organized in this handy spill proof storage case. This plastic case includes an assortment of coins and bills: 100 each of pennies, nickels, dimes, and quarters; 25 each of half-dollars and Sacajawea dollar coins; 100 each of dollar bills, fives, tens, and twenties; 50 each of fifties and hundreds. 950 coins and bills total plus a 64-page reproducible activity book.
CHOKING HAZARD. Not for under 3 yrs.