Children's Bilingual Board Book Favorites Library Bound Book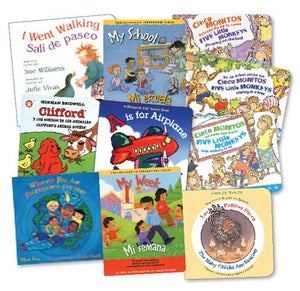 Please note: ƒ?› I Went Walking has been replaced by Who Lives in the Sea?.

Introduce young and non-readers to language, early concepts, and reading with sturdy board book editions of favorite children's titles in English and Spanish! Titles may vary.

Titles include:
ƒ?› Whoever You Are / Quienquiera que seas
ƒ?› I Went Walking / Sal?? de paseo
ƒ?› Five Little Monkeys Jumping on the Bed /
Cinco monitos brincando en la cama
ƒ?› Five Little Monkeys Sitting in a Tree /
En un ?­rbol est?­n los Cinco Monitos
ƒ?› My School / Mi escuela
and more!
'