Class Action 5-in-1 Tool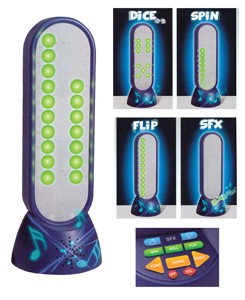 Class Action's five intuitive modes have endless applications in every classroom, for all ages. You'll marvel at the new engagement and motivation Class Action brings to any competition or choice. You and your students will think up countless new ways to use it every day! It will keep score for two teams or two players. You can just press the button to award points. It will reward winners with a dazzling sound and light show!

Just press the button to "roll the dice" and determine how many points the question is worth, who goes first, you name it!

Flashing lights chase rapidly round and round "wheel of fortune"-style, then slower and s-l-o-w-e-r until they finally stop on the chosen one!

A virtual coin flip at the touch of a button. Great probability and chance demonstration!

Reward and raspberry sound effects on demand, just press the "Thumbs up" or "Thumbs down" button.

Uses 3 "C" batteries (normally 1-year battery life).
'