Eating Right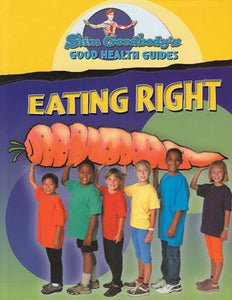 Our bodies should be treated right if we want them to work right, Slim Goodbody tells us in Eating Right. The first thing to do is to give our bodies the right kinds of food. Slim explains how to use the food pyramid to make choices that will keep us healthy.

Grades: 3 - 5
Using playful text and lively photographs, Slim Goodbody conveys important health and safety information to your students. The series discusses how to stay safe inside, outside, at school, and at play; how to avoid injuries and how injuries are treated; what our body needs to stay healthy, including exercise and healthful foods; and how to keep clean. Features: simple, lively text; pediatrician reviewed; correlates to curriculum standards (personal care, nutrition, safety, and disease control); encourages children to be responsible; labeled diagrams and charts. Accelerated Reader® titles, RL: 4.1-5.1.
Library bound, 32 pages.