Essential Sight Words for SSL (English/Spanish)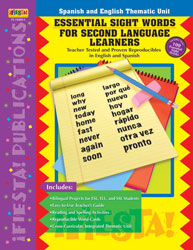 Grades: K-6
Bilingual - Every page in Spanish and English!
Designed for ESL (English as a Second Language), ELL (English Language Learners), SLL (Spanish Language Learners), and SSL (Spanish as a Second Language) students, these books include teacher-tested reproducibles in both Spanish and English to assist in bilingual education. An easy-to-use teacher's guide includes details for projects and activities that can be completed with the materials in each book. Explore fun thematic topics that will help students of English or Spanish learn key vocabulary, concepts, and more!
Reproducible, 80 pages.