Extra Practice for Struggling Readers: Word Study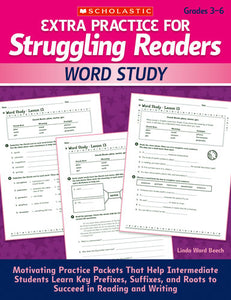 Grade: 3-6
Motivating Practice Packets That Help Intermediate Students Learn Key Prefixes, Suffixes, and Roots to Succeed in Reading and Writing.

When successful readers encounter unfamiliar words, they utilize strategies - for example, identifying word parts such as syllables and suffixes - to help thme figure out pronunciation and meaning. These resources offers dozens of practice pages that give older struggling readers multiple opportunities to review and apply these word-study skills, recognize common spelling patterns, and boost their word recognition and vocabulary development. With repeated practice, students become more fluent readers. 

Reproducible, 80 pages.