Fundamath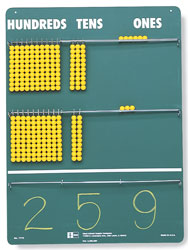 Use this unique learning aid to model place value and the operations of addition and subtraction. By using ones beads and tens beads on this specially designed chalkboard, students can see and feel the operations as they do them. Includes 300 beads & an illustrated activity booklet. 
18" x 23"

Common Core standards covered:
1.NBT.A, 1.NBT.B.2, 1.NBT.C.4, 1.NBT.C.6, 2.NBT.A.1
CHOKING HAZARD (1). Not for under 3 yrs.