Graphic Quest Library Bound Book Set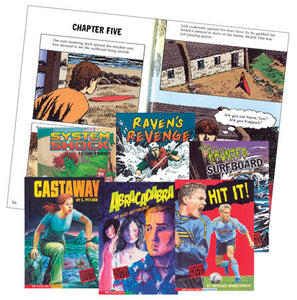 Grades: 3-8
Reading Level: 3              Interest Level: 3 - 8
Strong, admirable heroes overcome danger, fear, and phantom visitors in these dramatic and absorbing graphic tales with swiftly-moving text and innovative graphic illustrations. Face down a 200-year old ghost; escape from a tiny island before the rising tide engulfs it; & more!
Accelerated Reader® titles, RL: 3.0-4.5. Guided reading levels: N-T. Lexile levels: GN380L-GN560L.
Set of 6 books, reinforced library binding, 88 pages each.