Graphic Trax Library Bound Book Set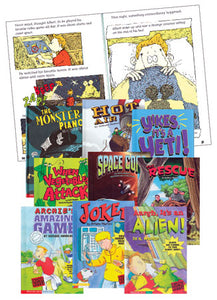 Grades: 3-6
Reading Level: 2 - 3 Interest Level: 3 - 6
Humor and excitement meet head-on with eye-popping illustrations in these graphic-style tales. Graphic Trax books combine the easy flow and appeal of comic books with more sophisticated plots and witty dialogue.
Accelerated Reader® titles, RL: 2.3-3.7. Guided reading levels: K-S. Lexile levels: GN290L-540L.
Set of 12 books, reinforced library binding, 72 pages each.