Growth Mindset Bulletin Board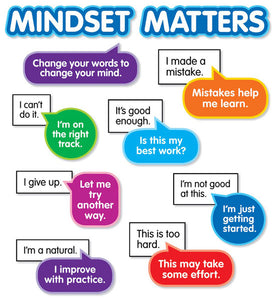 Grades: K - 6
Encourage students to develop a growth mindset with this colorful set of motivational cards. Builds self-confidence and reminds students to be positive when faced with challenges. Features 7 phrase cards plus 1 write-on/ wipe-off card to customize. Includes:
 "Mindset Matters" Banner (17" x 8")
 "Change Your Words" Card (18.5" x 6.9")
 7 Growth Mindset Phrase Cards
 1 Fill-In Phrase Card
 and a Teaching Guide
Total of 10 pieces.