Humor Literature Set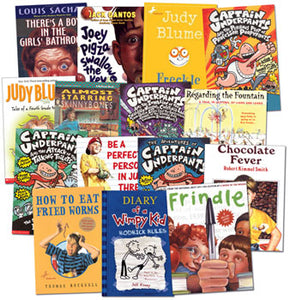 Grades: 3-6
Join these characters for some of the funniest books for children ever written! Students will laugh out loud as they identify with (and perhaps recognize!) the misadventures of each school-age protagonist in this collection. From the amusing to the downright side-splitting, this set includes favorites from Judy Blume, Louis Sachar, Andrew Clements, and the new sensation, Diary of a Wimpy Kid. 
Accelerated Reader titles, RL: 3.3-5.8. Guided Reading Level: O-S. Lexile levels: 470L-950L.

Sample titles include:

There's a Boy in the Girls' Bathroom
Joey Pigza Swallowed the Key
Tales of a Fourth Grade Nothing
Chocolate Fever
Diary of a Wimpy Kid
How to Eat Fried Worms
Frindle
…and many more!
Set of 14 Books (Paperback, 96 - 224 pgs.)