Incredible Creatures Book Set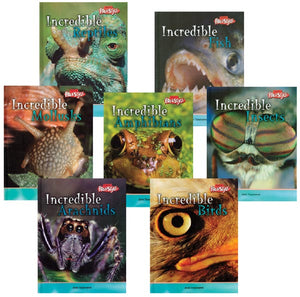 Grade: 6-10
This series focuses on a variety of weird and wonderful creatures from each animal group and how they have adapted to their environments. Basic characteristics and behaviors are explored, including feeding and hunting habits, and then some of the most amazing animals are highlighted. Gripping real-life animal stories illustrate how animals are in danger from human activities.
Titles include: Incredible Amphibians, Incredible Arachnids, Incredible Birds, Incredible Mollusks, Incredible Fish, Incredible Insects, and Incredible Reptiles.
Accelerated Reader® titles, RL: 5.3-5.9. Guided reading level: W.
Library bound, 56 pages each. Set of 7 books.