Magic Tree House: Adventures Book Set of 10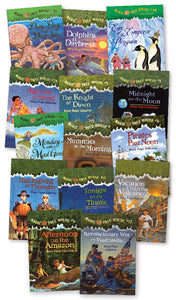 Grade: 3-6
Reading Level: 2 - 3 Interest Level: 3 - 6
Teach reading skills across the curriculum! In each Magic Tree House adventure, Jack and Annie travel to a different time in history or place in the world. Students peruse each nonfi ction companion Fact Tracker to learn "the rest of the story." Each Fact Tracker is full of information about the subject of the fi ctional story, with lots of illustrations, callouts, defi nitions, and additional resources.
Magic Tree House Adventures are hardcover, 66-74 pages each.
Accelerated Reader® titles, RL: 2.6-3.8. Guiding reading level: M. Lexile levels: 230L-590L.