Phonemic Awareness Reading Rods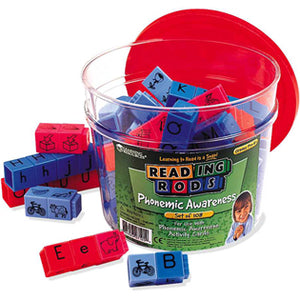 Grades: PreK-4
Early emergent and emergent readers will love learning alphabet and beginning phonics skills with colorful, tactile Reading Rods®. By connecting letter and picture rods, children develop valuable early reading skills, such as recognizing uppercase and lowercase letters, identifying phonemes, practicing letter-sound correspondence, sequencing letters of the alphabet, building first words and more. Color-coding helps students differentiate consonants (blue) and vowels (red). Convenient storage bucket contains 108 rods, including vowels, consonants, pictures with initial vowel sounds and pictures with initial consonant sounds. Use alone or with any Reading Rods® Phonemic Awareness materials.

Children learn to:
Isolate, identify and blend phonemes
Segment words into phonemes
Identify and make oral rhymes
Identify and work with syllables in spoken words

WARNING! Choking hazard. Contains small parts. Not for children under 3 years.