Picture Book Biography Book Set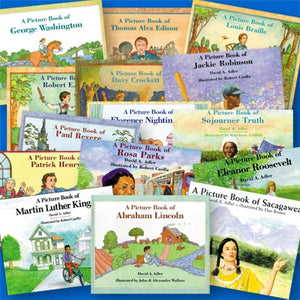 Grade: 1-4
From U.S. Presidents to influential African Americans, Revolutionary War era heroes, & more, learn about the extraordinary men & women who changed our country. Books feature colorful illustrations & easy-to-read text for young readers. Accelerated Reader titles.  Partial set shown. 
Set includes:
George Washington                                Abraham Lincoln
Martin Luther King, Jr.                             Thomas Jefferson
Bejamin Franklin                                      Christopher Columbus
Helen Keller                                             John F. Kennedy
Harriet Tubman                                       Jesse Owens
Anne Frank                                              Rosa Parks
Patrick Henry                                           Frederick Douglass
Sojourner Truth                                       Florence Nightingale
Paul Revere                                              Jackie Robinson
Davy Crockett                                          Betsy Ross
Robert E. Lee                                            Louis Braille
Thomas Alva Edison                                 Sacagawea
Thurgood Marshall                                   Amelia Earhart
Eleanor Roosevelt                                     George Washington Carver
Dwight Eisenhower

Set of 29 paperback books, 32 pages each.