Power of Science: Light & Sound Kit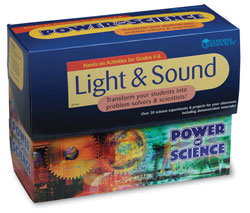 Grades: 4 - 6
Transform you students into scientists and real life problem solvers! Kit includes more than 40 thoughtprovoking investigations, supplies for student experiments and a 32-page Teacher's Guide with instructions, reproducibles and assessment ideas.
Light & Sound Kit:
color

sound waves

reflection and refraction

vibrations

musical instruments
CHOKING HAZARD. Not for under 3 yrs.