Simple Machines In My Makerspace Ppbk Set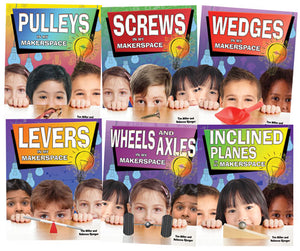 Grades: 3 - 6
Designed as an early introduction to the principles of Makerspace, this series shows young readers how to take what they learn about different simple machines and apply their own ideas and creativity to make very simple projects. Each title focuses on one simple machine and its construction as a jumping-off point into maker-inspired projects. Children are guided through the process so that they will become familiar with the skills required for working in Makerspaces—communication, collaboration, creativity, and problem solving. Supports the 21st Century Skills Framework—Learning & Innovation Skills. Features full-color photographs & illustrations, glossary, & index.
Guided reading level: Q. Lexile levels: 750L 820L.  Partial set shown. ©2017
Set of 6 paperback books, 32 pages each.