Skill Booster Set of 14 books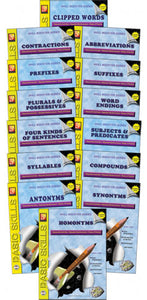 Grade: 4-9
Help students build basic skills such as understanding the four types of sentences, practicing syllable or contraction formation, learning prefixes or predicates, and more important skills with these easy-to-use workbooks. Puzzles, decoding, sentence writing, dictionary activities, matching, word searches, reviews, pre/post-tests and more offer an unending supply of reading and language reinforcement. 
Titles include:

• Subjects & Predicates
• 4 Kinds of Sentences
• Contractions
• Plurals & Possessives
• Word Endings
• Antonyms
• Synonyms
• Homonyms
• Abbreviations
• Compounds
• Syllables
• Prefixes
• Suffixes
• Clipped Words
Set of 14 reproducible books, 28-32 pages each.